Are you looking for a convenient and cost effective way to offer app control within your KNX projects? Look no further than the new MDT VisuControl Easy II which allows effortlessly management and control of various building functions from your smartphone or tablet.
The VisuControl Easy II offers a versatile and personalised interface suitable for the homeowner, building manager or industry professional alike. With just a few clicks you can centrally monitor and control various parameters, such as lighting, blinds, and room temperature, to create the perfect ambiance. The app's intuitive design allows for effortless navigation and quick access to all the essential features.
Furthermore, the VisuControl Easy II app's compatibility with both Android and iOS devices ensures that you can manage your building functions regardless of your client's preferred operating system. Whether you have a smartphone or a tablet, VisuControl Easy II has you covered.
Key features:
Visualisation and operation of lighting, blinds, room temperature, status, Scenes, media data, weather data, and more.
Control of up to 200 functions
Individual allocation in rooms, zones, or groups, allowing for customised management.
Separate Status Object for easy monitoring of various building parameters.
HSV or RGB color control for personalized lighting settings.
Graphical user interface is created automatically, ensuring a user-friendly experience.
Up to 4 IP cameras per Object server, providing enhanced security and surveillance.
KNX Secure enabled for a secure and reliable connection.
Connection to the MDT Time switch for efficient scheduling and automation.
Recording and display of historical data for analysis and optimization.
Product Link: Click Here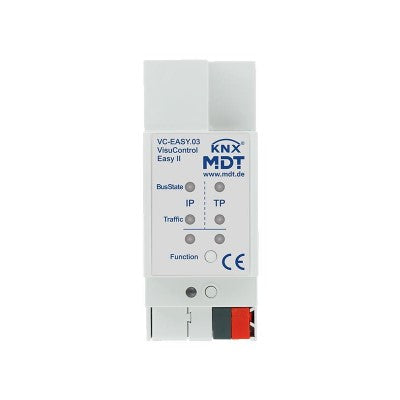 For more information contact a member of the My KNX Store team.
T: 0191 497 0777
E: knx@myknxstore.co.uk